Pro-Moscow voices tried to steer debate over Ohio train disaster #usnews #usnewstoday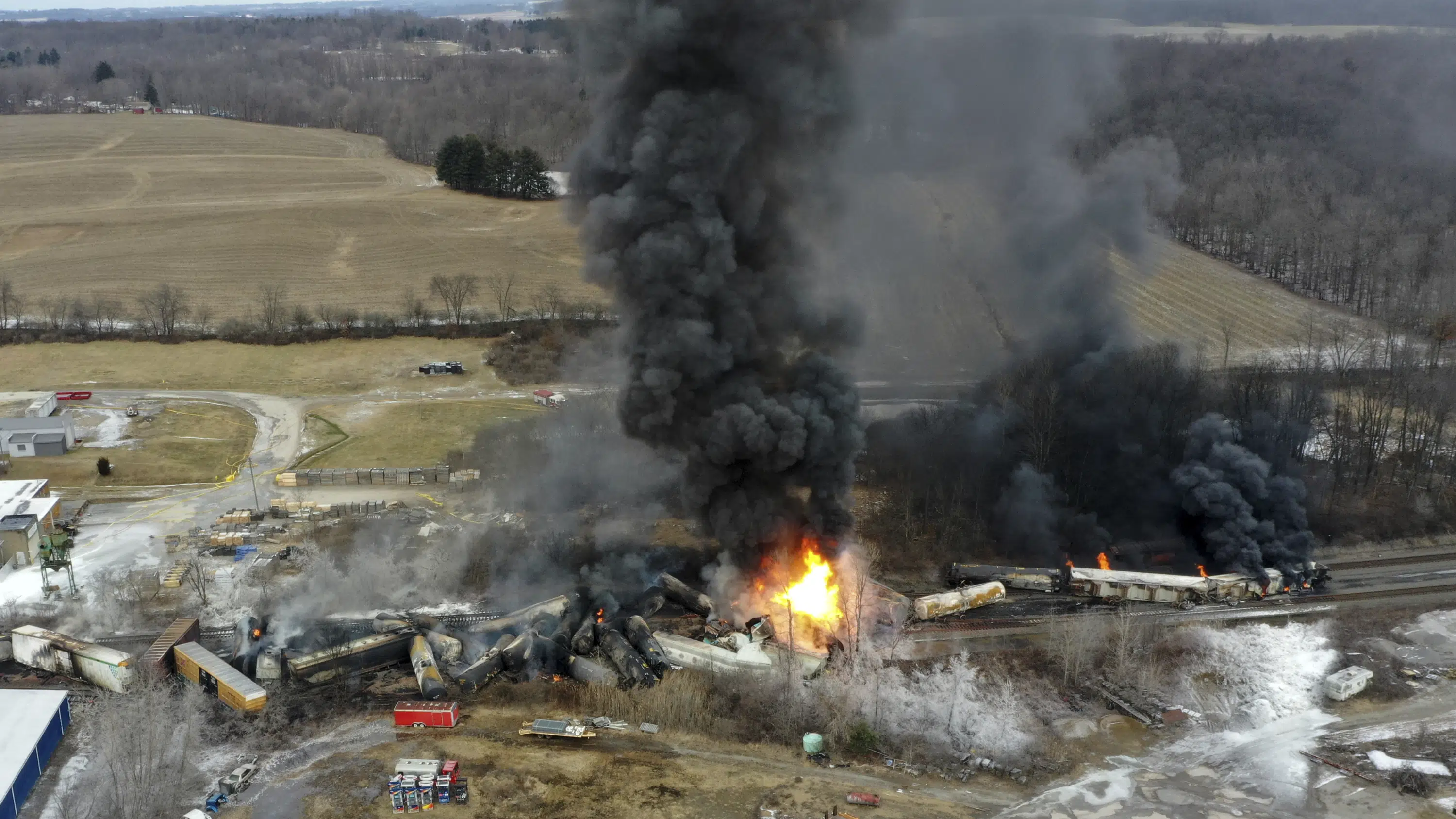 WASHINGTON (AP) — Shortly after a train derailed and spilled toxic chemicals in Ohio last month, anonymous pro-Russian accounts began spreading misleading claims and anti-American propaganda about it on Twitter, using Elon Musk's new verification system to expand their reach and create the illusion of credibility.
The accounts, which repeated Kremlin talking points on a myriad of issues, claimed without evidence that Ohio authorities were lying about the true impact of the chemical spill. The accounts spread alarmist posts that preyed on legitimate concerns. About pollution and health effects and compared the response to the derailment to US support for Ukraine after its invasion by Russia.
Some of the claims pushed by the pro-Russian accounts were provably false, such as the suggestion that the media had covered up the disaster or that environmental scientists traveling to the site had been killed in a plane crash. But most were more speculative, apparently designed to stoke fear or mistrust. Examples include unverified maps showing widespread contamination, posts predicting a rise in fatal cancers, and others about unconfirmed mass animal deaths.
"Biden offers food, water, medicine, shelter, pension payments and social services to Ukraine! Ohio first! Offer and deliver to Ohio!" posted one of the pro-Moscow accounts, which has 25,000 followers and features an anonymous location and a profile photo of a dog. Twitter gave the account a blue checkmark in January.
By regularly spewing anti-American propaganda, the accounts show how easily authoritarian states and willing Americans spread their propaganda may exploit social media platforms like twitter in an effort to direct domestic discourse.
The accounts were identified by Reset, a London-based nonprofit that studies the impact of social media on democracy, and shared with The Associated Press. Felix Kartte, a senior adviser at Reset, said the report's findings indicate that Twitter is allowing Russia to use its platform as a megaphone.
with no one home in Twitter's product security department, Russia will continue to meddle in US elections and democracies around the world," Kartte said.
Twitter did not respond to messages seeking comment for this story.
The 38-car derailment near East Palestine, Ohio, released toxic chemicals into the atmosphere, sparking a national debate about rail safety. and environmental regulations as poisoning fears rise drinking water and air.
The disaster was a major topic on social media, with millions of mentions on platforms like Facebook and Twitter, according to an analysis by San Francisco-based media intelligence firm Zignal Labs, which conducted a study on behalf of the AP.
At first, the derailment received little attention online, but mentions grew steadily, peaking two weeks after the incident, Zignal found, a span of time that gave pro-Russian voices time to try to shape the conversation.
The accounts identified by the Reset researchers got an extra boost from Twitter itself, in the form of a blue check mark. Before Musk bought Twitter last year, verification marks indicated accounts run by verified users, often public figures, celebrities or journalists. It was seen as a mark of authenticity. on a platform known for bots and spam accounts.
Musk ended that system and replaced it with Twitter Blue.given to users who pay $8 per month and provide a phone number. blue twitter users agree not to participate in the deception and are required to post a profile picture and name. But there is no rule that they use their own.
Under the program, Twitter Blue users can write and send longer tweets and videos. Your answers also have higher priority in other posts.
The AP contacted several of the accounts listed in the Reset report. In response, one of the accounts sent a two-word message before blocking the AP reporter on Twitter: "Shut up."
While investigators found clues suggesting some of the accounts are linked to coordinated efforts by Russian disinformation agencies, others were American, showing that the Kremlin doesn't always have to pay to spread its message.
One account, known as Truth Puke, is connected to a website of the same name aimed at conservatives in the United States. Truth Puke republishes regularly on Russian state media; RT, formerly known as Russia Today, is one of his favorite groups to repost, Reset found. A video posted by the account features former President Donald Trump's comments on the train derailment, with Russian subtitles.
In a response to questions from the AP, Truth Puke said it aims to provide a "broad spectrum of viewpoints" and was surprised to be labeled a disseminator of Russian propaganda, despite the heavy use of such material in the media. account. When asked about the video with Russian subtitles, Truth Puke said that he used the Russian version of the Trump video for convenience.
"We can assure you that this was not done with any Russian propaganda intent in mind, we just like to post things as soon as we find them," the company said.
Other accounts boast of their love for Russia. On Thursday, one account reposted a bizarre claim that the United States was stealing earthquake relief supplies donated to Syria by China. The account has 60,000 followers and is known as Donbass Devushka, after the region from Ukraine
Another pro-Russian account recently tried to seek an online discussion with Ukraine's defense department, posting photos of documents it claimed came from the Wagner Group., a private military company owned by Yevgeny Prigozhin, a key Putin ally. Prigozhin operates troll farms that have targeted American social media users in the past. Last fall he bragged about his efforts to meddle in American democracy.
A separate Twitter account claiming to represent Wagner actively uses the site to recruit fighters.
"Gentlemen, we have interfered, we are interfering and we will interfere", Prigozhin said last fall on the eve of the 2022 US midterm elections. "With care, precision, surgery and in our own way, as we know how to do it," Prigozhin said at the time.
Image And News Media Credit Source
Media Link
US citizen held hostage for 6 years in West Africa has been released #usnews #usnewstoday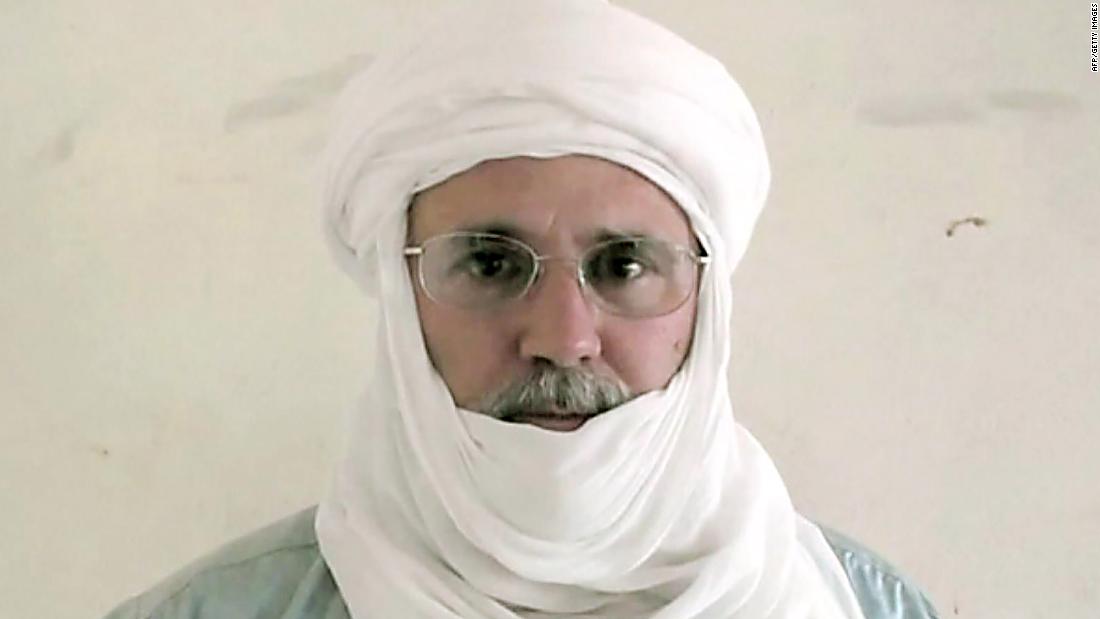 (CNN) An American aid worker who was kidnapped in Niger more than six years ago and held hostage by terrorists has been released, President Joe Biden's national security adviser has said. Jake Sullivan tweeted on Monday.
"I am pleased and relieved to see the release of American hostage Jeff Woodke after more than 6 years in captivity. The United States thanks Niger for helping to bring him home to all who miss and love him. I thank so many in our government I have worked tirelessly to secure your freedom," Sullivan tweeted.
Jeffery Woodke is now being offered support and transportation. He was released outside of Niger in the Mali-Burkina Faso area, the official said.
"We are working closely with partners in the region and beyond to ensure safe transportation and immediate access to the best medical and psychiatric support we can offer," a senior administration official told reporters on Monday. "Where exactly Jeff chooses to go will be a little bit up to him."
The US government has been working on efforts to secure Woodke's release for years, relying on both intelligence and military resources, the official said. But ultimately the Nigerien government was instrumental in securing his release, the official said.
Secretary of State Antony Blinken visited Niger earlier this month.
"We've certainly been in contact with them about the priority it is for us to secure the release of Americans like my Jeff Woodke, and that's something the secretary confirmed when he was there," the official said, adding that Niger could share more details. about the release.
On his trip, Blinken announced $150 million in new humanitarian aid for the region.
"It will help provide vital support to refugees, asylum seekers and others affected by conflict and food insecurity in the region," Blinken said in a statement about aid going to Niger, Burkina Faso, Chad, Mali and Mauritania. . .
Terror groups linked to Al Qaeda and ISIS have been active in Niger for years.
Without saying which specific terrorist group was holding Woodke, the official pointed to a number of "overlapping terrorist networks that intersect in that part of West Africa." The official added that these terrorist networks view "kidnapping and hostage-taking as a frank part of their business model, and as a source of income and support."
The official thanked the Nigerien government for participating in efforts to secure their release, adding that the United States did not pay any ransom to the terrorists.
The United States did not pay any ransom to the terrorists to get Woodke released, the official said.
"Here there was no direct negotiation between the US government and terrorist organizations, which is worth clarifying. We certainly did not pay ransom for a concession to a terrorist organization here," the official said.
"Emerging as our best line of effort among many we've tried over the years, it was working to see what a very good, capable and fortunately willing partner in Niger could offer in its own commitment," the official added.
In addition to Woodke's release, French journalist Olivier Dubois, kidnapped in 2021 in Mali, was released on Monday. according to a tweet by French President Emmanuel Macron.
Dubois was transferred to Niger after his release.
"We feel joy and immense relief. Our colleague was held hostage for 711 days in Mali. His captivity was the longest for a French journalist held hostage since the Lebanon war," Reporters Without Borders said in a statement.
Dubois was kidnapped in the Gao region of northern Mali by an al Qaeda-linked group known as GSIM.
"We thank the French authorities for having implemented the necessary means to obtain their release. It is an honor for France not to let the hostages down and allow them to regain their freedom," the RWB statement added.
CNN's Dalal Mawad contributed to this report.
Image And News Media Credit Source
Media Link
Driver arrested after crash in East Charlotte kills well-known chef #usnews #usnewstoday
CHARLOTTE – The Charlotte-Mecklenburg Police Department says a man is facing felony charges after one person was killed and several others injured in a crash in east Charlotte.
The accident occurred shortly after 7 p.m. Saturday on Central Avenue between Eastcrest Drive and Briar Creek Road.
On Monday, CMPD provided more details about the accident. Investigators say a Nissan Sentra was going "at high speed" when it crashed into the rear of a Hyundai Genesis. That crash caused the Genesis to go off the road and into a power pole, and the Nissan hit a curb before spinning to a stop.
[ ALSO READ: One person killed in collision in Caldwell County, troopers say ]
According to the police department, the driver of the Genesis, Kendall Ross, 29, was killed in the accident. A woman in the car was taken to the hospital with life-threatening injuries to her, police said.
CMPD identified the driver of the Nissan as 23-year-old Alejandro Gomez. Investigators say Gomez was examined and "found to be incapacitated." Gomez was arrested and is being charged with assault with a deadly weapon causing serious injury, felony death while aboard a vehicle and reckless driving.
According to a fundraiser for Ross's wife, Ross was a "well-known, loved, and respected chef in Charlotte and across the country."
"He worked alongside other talented chefs including Chef Corey Siegel, Chef Hannah Cupples, Chef Sam Hart, Chef Adam Reed and many more," fellow chef Hannah Riley wrote at the fundraiser. "Kendall was driven and passionate in the kitchen and with Electrolux, teaching other chefs the creative recipes that could be created with her products."
This is a developing story, please check back wsoctv.com for updates
VIDEO: One person is killed in collision in Caldwell County, troops say
This browser does not support the video element.
Image And News Media Credit Source
Media Link
DeSantis blasts Manhattan DA in early comments on possible Trump impeachment #usnews #usnewstoday
Florida Governor Ron DeSantis (R) weighed in Monday on the possible criminal indictment of former President Trump in New York, breaking a two-day silence on Trump's claim that he will be arrested this week.
When asked about the alleged indictment during an event, DeSantis criticized Manhattan District Attorney Alvin Bragg, whose office is investigating hush money paid to a porn star on Trump's behalf during his 2016 campaign, calling him " Soros-funded prosecutor" and accusing him of "arming" his office.
"I have seen rumors swirl. I haven't seen any facts yet, so I don't know what's going to happen," said DeSantis, a likely Republican hopeful for the 2024 president. "But I do know this: the Manhattan district attorney is a Soros-funded prosecutor and he, like other Soros-funded prosecutors, arms his office to impose a political agenda on society at the expense of the rule of law and public safety. ."
DeSantis did not mention Trump by name, choosing instead to question Bragg about his approach to crime in New York City, though he made the audience laugh when he joked that he doesn't "know what it takes to pay hush money to a porn star to ensure silence about some kind of alleged affair".
"But what I can talk about is if you have a prosecutor, who is ignorant of the crimes that occur every day in their jurisdiction, and chooses to go back many, many years to try to use something about secret porn star payments, that is an example. to pursue a political agenda and assemble the office," he said.
Still, DeSantis also noted that his office would not be involved in the case "in any way," indicating that he has no plans to help Trump fight extradition to New York if he faces charges.
The comments were the first by DeSantis about the possible indictment since Trump claimed in a Saturday post on his social media site that he would be arrested Tuesday and urged his supporters to protest any possible criminal charges against him.
DeSantis's initial silence on the matter sparked a pressure campaign by Trump allies, who raised questions about why the Florida governor had not weighed in on the former president's claims.
Other current and potential Republican presidential candidates, including former Vice President Mike Pence and businessman Vivek Ramaswamy, came to Trump's defense over the weekend, calling Bragg's investigation politically motivated.
Ramaswamy specifically sought to pressure DeSantis and former US ambassador to the United Nations Nikki Haley, one of the few outspoken Republican presidential candidates, to condemn Bragg's "political persecution through prosecution" of Trump.
Copyright 2023 Nexstar Media Inc. All rights reserved. This material may not be published, broadcast, rewritten or redistributed.
Image And News Media Credit Source
Media Link